The 6 Main Types of Barcode Scanners You Need to Know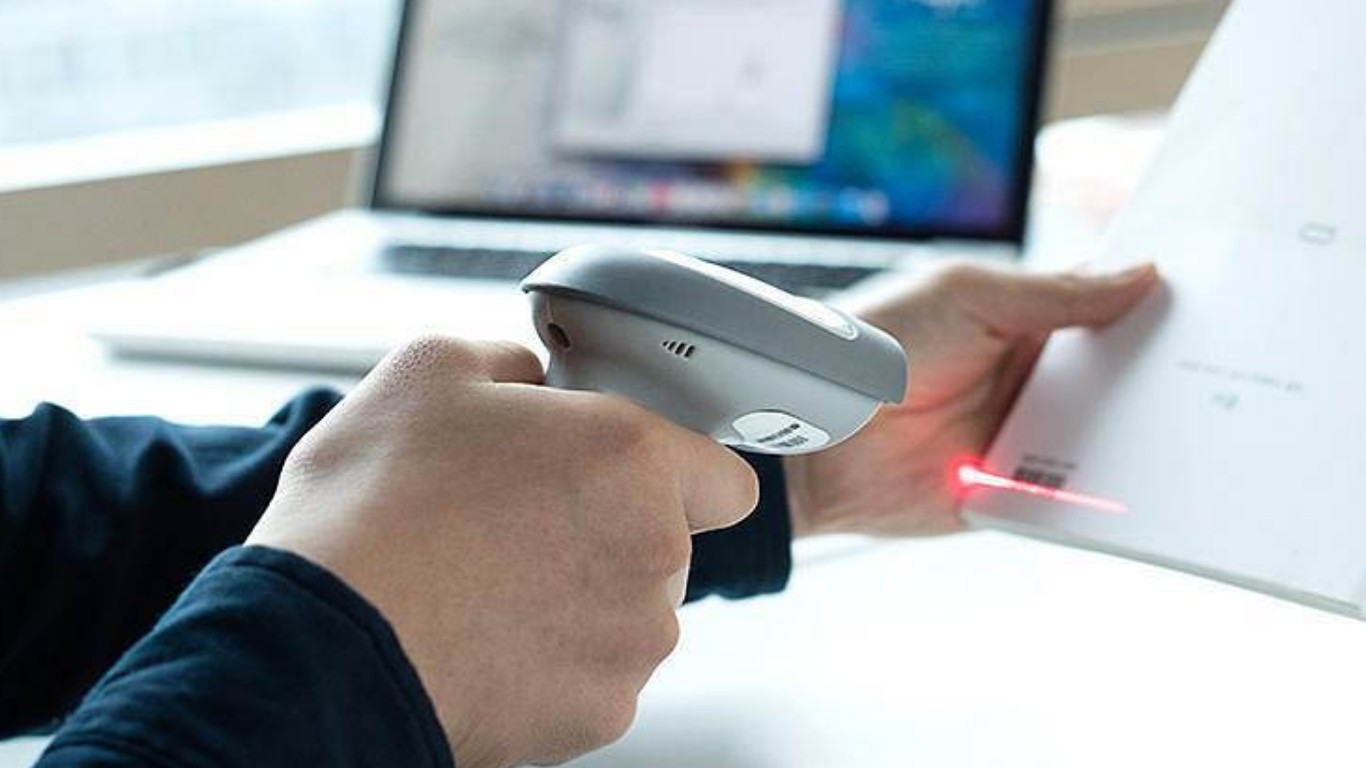 In the right configuration and combination barcodes and scanners can be powerful tools for saving time, reducing labor costs and worker errors, improving inventory control, and delivering better customer service through instant visibility and item-level awareness.
But to get the best benefit, you need to choose the right barcode system and
barcode scanner
that best suits your information needs and work environment. Considering features such as connectivity, memory, functionality, convenience, durability, etc. is critical for rugged applications.
This article describes the similarities and differences between scanner types, the advantages and disadvantages of each type, and typical work environments for their different uses.
1. Fixed barcode scanner
In high-speed environments such as commercial, light industrial, assembly lines, and access control checkpoints, fixed-mount scanners typically use lasers to read 1D and 2D barcodes and direct part mark (DPM) barcodes.
As the name suggests, these devices are installed in fixed locations, and they can read objects with barcodes as they pass through at high speed and in large volumes. These scanners can be mounted at specific locations, angles, and distances, allowing them to read at high speeds with high accuracy-such on fast-moving conveyor lines-and they are often integrated into large automated information processing systems.
Fixed-mount scanners do not require employees to hold the device while scanning items. This hands-free operation increases worker productivity. The scanners are very compact and easy to install in tight spaces such as laboratories and examination benches to increase work speed and accuracy. They can even be mounted on forklifts or other material handlers for warehousing applications.
Fixed barcode scanners are often used at security checkpoints, such as at airports to scan boarding passes and QR codes on mobile phones. In industrial applications such as automotive, medical device, defense, and aerospace manufacturing, stationary scanners read DPM barcodes used to track and trace products.
2. In-counter barcode scanner
In-counter scanners are similar to stationary scanners in that they are stationary-but these scanners are most often integrated into retail point-of-sale counters, where they can quickly read barcodes on items that pass through them without retail Workers pointing to scanners or trigger devices.
Most people are very familiar with over-the-counter scanners, as they are used in most large retail and grocery stores, including checkouts and self-checkouts. In addition to being able to read product barcodes, in-counter scanners are also used to read loyalty cards, coupons, mobile phone codes, and personnel badges.
3. Demonstrate barcode scanner
The demo scanner is placed on the counter, rather than integrated into the counter, and the user "presents" the barcode of the item to the scanner. Like in-counter scanners, they have a wide reading area and don't require the user to hold or trigger the scanner.
Typically, over-the-counter barcode readers are used in conjunction with over-the-counter scanners. This combination is common in retail and grocery stores, checkout lanes, and customer self-checkouts, and most users already feel some level of comfort with these devices.
4. Mobile computer barcode scanner
Sometimes mistaken for a handheld scanner, handheld computer barcode scanners combine the capabilities of a portable barcode scanner and a PC, enabling workers to scan items and access important information from anywhere.
While their pistol shape resembles that of many handheld scanners, mobile computer scanners often include a keypad and screen, and they have far more processing power. Most can store data in internal memory or communicate wirelessly via wifi, WLAN, or mobile data services.
Mobile PC scanners combine processing power, convenience, and mobility, allowing them to be used for a variety of purposes in work environments such as warehouse management, retail, transportation and logistics, manufacturing, field service, and more, including:
Asset tracking
Price check
Buy online and pick up in-store
Maintenance and repair
Proof of delivery
And more
Tablet and smartphone-style barcode scanners
Tablet, rugged tablets and smartphone-style scanners look and operate similarly to consumer tablets and smartphones, making them easy to use for most workers with minimal training. They can run operating systems including Windows, Android, and IOS for easy integration into your operations.
These barcode readers typically use camera-based scanners rather than light-based scanners, and they also provide the processing power of a computer to provide an easy-to-use interface for a wide range of applications in retail, manufacturing, transportation, healthcare, field, and Mobility, hospitality, and more:
Concierge service
Housekeeping
Patient verification
Asset management
Task assignment
Information inquiry
Mobile point of sale
And more
Smaller devices are often assigned to individual workers, and they can easily fit in a pocket.
5. Handheld barcode scanner
Handheld scanners can include wired, wireless and batch scanners. They're usually designed much like a pistol, with an ergonomic handle and trigger that workers can activate when pointing the device at a barcode. Others are designed much like a TV remote, with a button to trigger the scanner. They are generally designed to be intuitive and easy to use. They provide freedom of movement, reducing the need for workers to move items, as with stationary and presentation scanners.
wired or wireless
Wired handheld scanners are often integrated into retail point-of-sale applications, they are usually mounted on a stand, but can be used as a handheld scanner to read barcodes on large, heavy, or bulky items.
Cordless handheld scanners use radiofrequency or Bluetooth technology for real-time data transfer, such as inventory updates or batch scanners, which store data internally until the worker puts the device back on the dock, and after the batch scans the data can be uploaded to the host computer. Some wireless handheld scanners offer Bluetooth technology connectivity for integration with devices such as laptops, tablets, and smartphones.
Uses for handheld barcode scanners—especially those with longer scanning ranges—include manufacturing, retail, grocery warehouses, healthcare, logistics, and field service.
6. Wearable barcode scanner
Wearable scanners combine the mobility of handheld scanners with the hands-free convenience of stationary barcode scanners. They can be as simple as fools, readers, and triggers, or they can include keyboards, processors, monitors, and more. For the most part, wearables use Bluetooth technology to communicate with larger devices and systems.
Wearables are usually attached to the user's hand, wrist, finger, or arm, most commonly using a hook-and-loop closure - but they can also include headsets that include optical displays and audio capabilities. They free workers' hands and save time from stopping, reaching, scanning, and putting down scanners, all actions that can be a huge waste of time during the workday.
As you'd expect from any wearable device, wearables are designed for more durable use.
They can be used in retail, field service, item inspection, warehouses, and more.
As you can see, the wide selection of device styles and features means you have an almost limitless range of options. That's a good thing, but it also means you need to choose wisely and carefully evaluate features based on the specific features you need, from processing power and connectivity options to display types and durability levels. If you are planning to buy a barcode scanner, please
contact us
.
Yanzeo is a professional
custom RFID readers and barcode scanners manufacturer
. The company has invested heavily in scientific research projects in the field of automatic identification all year round. Through the product development and application of innovative technologies, we can customize a variety of automatic identification solutions for customers to meet the growing needs of customers for barcode solutions.