How To Choose Scanning Equipment In Shopping Malls And Supermarkets





With the improvement of living standards, consumers' needs have gradually become diversified and personalized, and more and more product types have been developed in shopping malls and convenience stores. The manual operation method commonly used in most supermarkets not only has inaccurate data and low efficiency, but also requires very high manpower, and there is no security guarantee for data.




The digital management mode uses mobile smart handheld terminals, ultra-high frequency RFID smart terminals, and invoicing management software. Relying on barcode recognition technology and wireless network as the transmission medium, real-time, efficient and dynamic display of commodity inventory status helps business owners. Superstores have strengthened their warehousing and inventory management.

1. All data is automatically uploaded and synchronized to the database center, without manual statistics, the speed is fast and accurate

2. Real-time query of inventory data is realized through wireless transmission technology, which is convenient for supermarket staff to grasp inventory status in a timely manner, and make reasonable purchase and replenishment according to shelf sales and out-of-stock conditions

3. Use barcode scanning and RFID identification technology to complete the whole process of goods from warehousing, putting on the shelf, inventory, and warehousing, one object and one code traceability, including product name, type, quantity that has been shipped, remaining quantity and shelf location, simple and efficient, data Controllable and traceable.

4. The RFID warehouse inventory tool realizes efficient and accurate inventory of goods, dozens or hundreds of tags can be read instantly, which greatly improves the scanning efficiency and reduces labor costs.

5. Through professional scanning equipment based on one-dimensional/two-dimensional code scanning technology, mobile scanning of various commodity barcodes can realize rapid entry and upload of various commodity information, high-speed information flow, ensure warehouse visualization, improve work efficiency, and make mistakes low rate

Handheld terminal R12 mobile high-speed scanning code significantly improves efficiency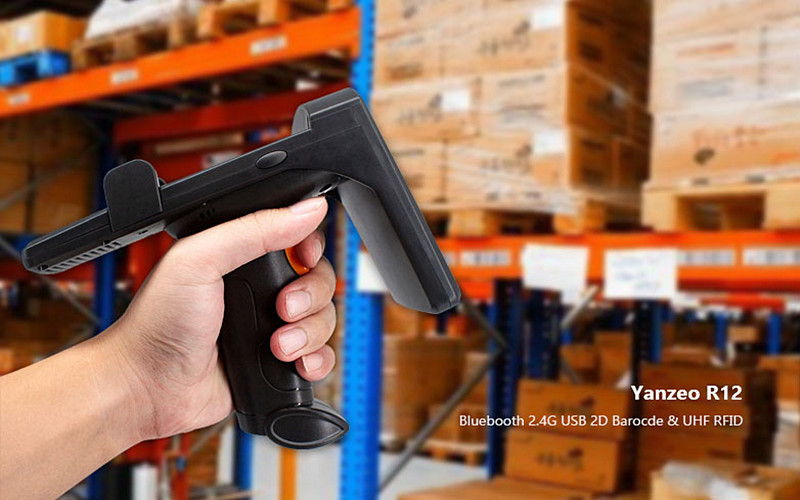 1. Reliable industrial protection capability

2. High-sensitivity touch screen and large-screen full-view experience device

3. A variety of transmission methods, high-speed transmission of real-time information flow

4. High-end imported professional scanning head, fast and accurate scanning of various barcodes

The types of barcodes that can be recognized include: one-dimensional, two-dimensional codes, screen codes, and abnormal barcodes such as wrinkled codes, color codes, damaged codes, and laminated codes, with high reading accuracy. Support batch scanning, accurate picklist scanning, and multiple barcode recognition to meet diverse scanning needs.

5. QC fast charging, the charging efficiency is increased by 70%, and the ultra-long standby time can meet the long-term work needs of supermarket staff.



UHF RFID smart handheld terminal makes warehouse inventory work efficient and accurate



1. Long-distance batch reading of RFID tags

The high-sensitivity RFID antenna has a wider scanning range, and can read RFID tags within 20 meters in large quantities. The barcode labels of multiple specifications of the same product can be read instantly, which can quickly complete the inventory work and reduce labor costs.

2. Ergonomic handle, easy to operate and reduce fatigue

The device adopts an ergonomic handle with anti-slip and anti-fatigue design, and users are not easy to feel tired after holding it for a long time.

3. Using adaptive interference cancellation (SJC) technology, it can easily deal with complex environments with metal interference; cluster recognition technology can effectively reduce occlusion or overlapping blind spots, and high-density labels can also be read smoothly. A better scanning experience helps to quickly complete the work of tallying, finding goods, and taking inventory.

4. Low power consumption, fast heat dissipation material, support uninterrupted scanning code

High heat dissipation material and design process, with optimized algorithm, low power consumption, fast heat dissipation, support 12 hours of uninterrupted scanning code, long battery life.

5. Excellent decoding performance, high speed and precision

Equipped with an international professional scanning module, the scanning is accurate and fast, and the international universal 1D/2D/distorted/contaminated/old barcodes and other types of barcodes can be quickly identified in milliseconds, realizing extremely fast processing of large-capacity barcode data.